7 things to remember to have a good trip in China
China has always attracted more and more tourists due to its beautiful natural landscapes, dynamic cities, and distinctive cuisine.
1. Cuisine
Those who have never been to China often assume that the characteristics of Chinese food are the sweetness and harmony of Cantonese spices. However, the reality is that Chinese food is richer and richer.
Apart from dim sun and Cantonese-style dishes, there are still countless regional specialties for you to enjoy.

Spicy dishes of Sichuan and Hunan or fresh and sour dishes of Guizhou and Yunnan.

In addition, there are also dumplings and seafood processing style gentle, delicate from Hangzhou and Shanghai; Hot sandwiches or hand nibs from Xinjiang. You do not have to go to the place to enjoy it because most of the major cities have restaurants that serve all kinds of cuisines from everywhere.
2. Connect to the Internet
Facebook, Youtube, Google Maps and most other sites are blocked in China. In order to facilitate your activities in the territory of China, you should also install some useful software such as WeChat, a Chinese version of WhatsApp, such as Facebook, PayPal, food delivery service and many other integrated applications.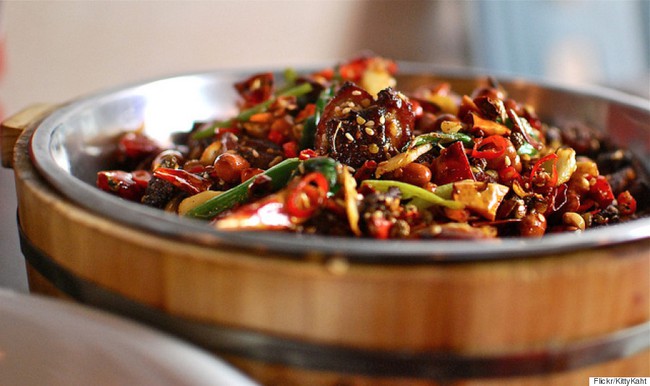 Although WeChat has some features that are hard to use because it's for the Chinese, anyhow, with this software, you can still read news, search for museums and restaurants, or watch some solid events. know. To replace Google Maps, you can install Baidu Maps.
3. Learn the language
Chinese is considered one of the hardest languages ​​in the world. However, if you want to travel, you should also consider equipping yourself with some common conversation. You can study through a short Chinese conversation or ask a "tutor" friend.
You will easily manage a lot more with just a few basic sentences. Moreover, Chinese people will be more sympathetic to those who know a little bit of their language, so that you will be more likely to get help. Note, you draw or pre-print addresses in Chinese to prepare in advance for some situations.
Pleco software, a fairly useful Chinese-English dictionary, can help you overcome some of the language problems.
4. Move
In many countries, cruise is synonymous with a romantic time sitting by the countryside window. The train in China will also bring you such an experience, and above all, the high speed rail system is particularly convenient. With stations located near the city center, closer to the airports, it is easier to travel by high-speed train between major cities, cheaper than domestic flights.

It only takes five hours by train from Beijing and Shanghai, which is quite fast compared to flight times and is even tougher. In addition, the crowded modern railway station is the place to show you the most clearly the pace of rapid growth of this country.
5. Select a location
Unlike other tourist destinations, China's coastal areas do not attract tourists in inland areas - provinces that have a distinct, indigenous culture and cuisine, and still retain many features. More traditional.

Yunnan Province near the border with Laos and Myanmar will evoke many of Southeast Asia's cultures. Chengdu in Sichuan is a city with relaxed pace and a gateway to the wilderness along the Himalayas.

It is not far from Chongqing, a megacity with towering skyscrapers surrounding the hills along the Yangtze River.
Contemporary Chinese art has established a certain reputation in the world. So, it is a shame if you do not spend some time visiting the famous art exhibitions and galleries such as the Ullens Center for Contemporary Art in Beijing, the Shanghai Museum of Contemporary Art and the Center. Contemporary Art Terminal (OCT Contemporary Art Terminal) of Shenzhen.
6. Shopping
Of course, you can easily find clones everywhere in China. Famous branded products are made in a sophisticated way, like the real thing and sold in public. However, there is an item that we recommend to buy quality but it is O Long tea or Prussian tea. Surely you will not regret it.
If you want to shop for clothes or souvenirs, do not miss Beijing's Gulou Dong Dajie Street. In these alleyways around, you can easily come across a pretty clothes shop from local designers or old fashioned but extremely delicate and luxurious furnishings shops.
And so, you need to pay attention to the moment. Spring and fall are the two most beautiful times of the year, with moderate temperatures and pleasant temperatures. Also, avoid big Chinese holidays like the New Year, Golden Week (early October).
Every New Year, traffic system is often overloaded while the inner city is deserted by people. Have returned home. Golden Week is the peak season for domestic tourism.
By: Tommy Danine